Ensuring Well-Being through Our
Commitment to Cleanliness
Our Commitment to the Well-Being of our Guests and Associates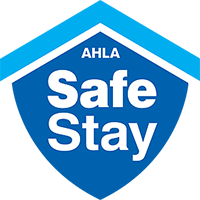 The Inn At The Quay has always adhered to a stringent health and safety program designed to address a broad spectrum of contaminants, including COVID-19. We support the Hotel Association of Canada's guidelines as per AHLA Safe Stay, paying close attention to hygiene and cleanliness in our common areas and guest rooms, and following the latest advice of the Public Health Agency of Canada and our federal, provincial and local authorities in compliance with all applicable laws. We hope that our continued attention to cleaning and hygiene will provide you with confidence in our hotel.
We want you to know that while you are our guest, we will do everything we can to ensure your comfort. If we can assist in any way, please do not hesitate to ask.
Below are some of the things we are doing to ensure your well-being:
We have provided enhanced training in hygiene processes and compliance requirements.
Our associates are wearing personal protective equipment as a personal option.
Public Spaces
Hand sanitizing stations available throughout all public spaces.
Guest Rooms
Placed hand-sanitizing wipes in guest rooms.